Introduction
A multilingual release called Virtual Vaccine (under the virtualvaccine.me domain) is available to bootstrap Citizen Assisted Contact Tracing in different countries.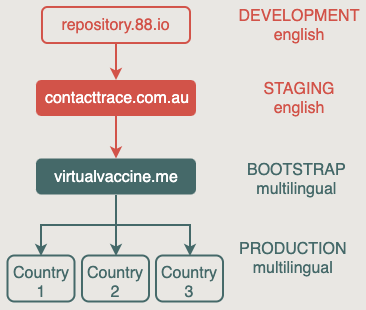 An international development environment is available at repository.88.io where everyone can contribute. Approximately every week, improvements and fixes are merged and released under contacttrace.com.au. If there is no problem running those changes in contacttrace.com.au for approximately a week then multilingual features will be merged in and it will be pushed onto virtualvaccine.me to bootstrap deployment in different countries.
Progress
You can track the progress of the multilingual virtualvaccine.me bootstrap release on our forum:
https://discuss.contacttrace.com.au/c/virtual-vaccine/42
The progress on the English contacttrace.com.au staging release on our forum:
https://discuss.contacttrace.com.au/c/citizentrace/11
Bootstrap vs Staging Releases
We are rebranding the stripped down Staging release as "Citizen Assisted Contact Tracing" with its own domain "contacttrace.com.au" to reflect its STAGING focus.
"Virtual Vaccine" and its associated virtualvaccine.me domain is still used for the worldwide bootstrap release with full feature.
People who do NOT want to use the less stable contacttrace.com.au, can use the virtualvaccine.me releaase which is more stable and use their local country production releases when they are ready.
Citizen Assisted Contact Tracing
With just one click citizens can now privately contact trace THEMSELVES at anytime on their own mobile phones, the personal privacy vs virus visibility conundrum is finally solved.
Additional computing power and private data from millions of citizen mobile phones gives the government new epidemic control possibilities:
Privacy issues are gone
System will never be overwhelmed
Virus located precisely down to metres
Tracing is finished before viral test is even performed
Novel preemptive tracing and data fusion technologies improve the current 2 days gold standard to just 2 minutes!
The unprecedented boost in contact tracing resources by citizens means virus transmissions can be stopped quickly and precisely, collateral damages (mass testing, border closures, lock downs etc.) can be avoided.
This complement NOT replace vaccination with a non-pharmaceutical solution that works independent of vaccine shortages, hesitancies, breakthrough cases, varying effectiveness against different variants etc.